Refurbished Used Bicycles
Thousands of RCS customers have enjoyed "buying used" over the years, so in addition to its focus on bicycle repairs in 2020, Recycled Cycles will sometimes have a small number of used bicycles with "bike shop" brands available. All used bikes are cleaned, inspected, adjusted and refurbished, and include a 90-day warranty -- see warranty details.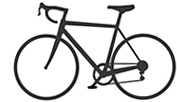 Road Bikes
LIGHTWEIGHT, NARROW TIRES, DOWNTURN HANDLEBARS
Road bikes are designed to be ridden on hard surfaces. They can be used on the Katy and similar recreational trails, but their performance-oriented features can be a drawback in these environments. Road bikes include sport, racing and triathlon models. All bikes can be customized to buyers' needs. (Listings with a "RETRO" tag include classic older models made during the 1970s and '80s.)
Photo
Description
49.5cm MARIN PORTOFINA -- $450 -- SPORT
(24 speeds, white)
(Marin size) Women-specific aluminum road bike features a carbon fork, triple cranks, Shimano shifting and a women's saddle.
53cm RALEIGH GRAND PRIX -- $400 -- SPORT
(24 speeds, yellow black)
(Raleigh size) Nice sport bike with all the right features. Aluminum frame, carbon fork, Shimano STI drivetrain, Tektro brakes.
56cm CANNONDALE R1000 -- $675
(27 speeds, matte black)
(Cannondale size) Stealthy bike with blackout graphics! U.S.-made aluminum frame, carbon fork, Shimano Ultegra equipment.
Off-Road Bikes
STURDY CONSTRUCTION, WIDE TIRES, UPRIGHT HANDLEBARS
Off-road bikes are user-friendly vehicles that stand up to dirt conditions with strong brakes and wide gearing, but also work for short road rides. Advances in materials, equipment and suspension technology have expanded choices in this category to include mountain bikes, cyclocross bikes and gravel bikes. All selections can be customized to buyers' needs. [ Top of Page ]
Photo
Description
16in TREK 820 -- $235
(21 speeds, yellow/black)
(Trek size) Basic mountain bike would also make a practical commuter. Chrome-moly frame, suspension fork, Shimano components.
19in GARY FISHER TASSAJARA -- $325
(27 speeds, black)
(Gary Fisher size) Gold series aluminum frame, Manitou Axel suspension fork. Shimano Deore shifters and derailleurs, Bontrager cranks.
Hybrid/Comfort Bikes
EASY RIDERS, WIDER TIRES, UPRIGHT HANDLEBARS
Comfort bikes are well-suited to short, casual rides on recreational trails or roads. They have upright bars, wide tires, wide saddles and wide gear ranges. Most comfort bikes also have suspension features. Hybrids are a related category of upright bike. Often lacking suspension, they are lighter than comfort bikes and offer greater on-road performance. [ Top of Page ]
Photo
Description
17in/Large GIANT CYPRESS Ladies -- $235
(21 speeds, silver/red)
(Giant size) Plenty of comfort features: aluminum step-through frame, high-rise stem, wide saddle, twist-grip shifters, etc.
20in TREK 7.2 FX -- $325
(24 speeds, black)
(Trek size) Popular model. Lightweight aluminum frame, Shimano derailleurs and trigger shifters, alloy wheels and triple cranks.